My Motorcycles
My first bike was a 1980 Yamaha SR500. I thought that the narrow bike with it's kickstarter and thumping motor would be a good bike, especially with it's 395 pound weight. It was for a while, but it became a thrashing monster, and all my friends had BMW R65's, so the peer pressure was on. To one up them, I got an R65LS, the stylish sister of the staid R65. Here's a really bad picture of one I stole off the Web.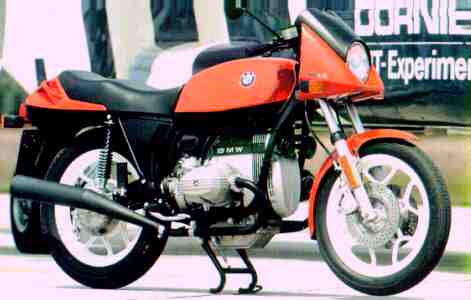 I've owned two R65LS's now. The first one was a 1983 model purchased new in 1984. It was totalled in 1988, when some kids in a lowered Datsun 510 turned left in front of me without seeing me. We were both going about 35 miles an hour. The bike smashed into the front of their car, crushing the forks, wheel and brakes into the front of the engine. The gas tank and one of the luggage bags came off as well. I flew over the handlebars, landing on my back with all the wind knocked out of me. The helmet, leather jacket and motorcycle boots I was wearing saved me from a lot of injuries.
I was done with bikes for quite a while after that, but then in 1996, I got the bug again, and found another R65LS, a 1982 model. It was in generally poor condition, but a few trips to Cal BMW put most of it right again. I hope to restore it to like new condition someday.
Part of what got me excited about getting a Beemer again was reading all Noémi Berry's Motorcycle pages, including the R65 and R65LS FAQs. She has some pictures of her R65LS's on her Motorcycle Life page.
Here is an article I transcribed from an old Autoweek magazine that sums up the appeal of this odd bike.
Someday I'll have lots of my own Beemer stuff here, but right now there's just this story, about one of the several long trips I took on my first R65LS.
Back to Home