1992 Mazda Miata
Here are some new pictures of the Miata taken 11/10/02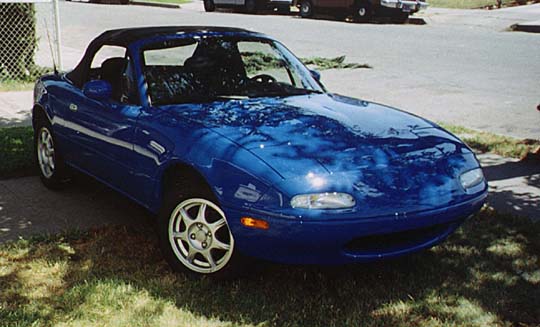 Base model - a true sports car. No A/C, power steering or power windows.
Bought New in November 1991

1.6l double overhead cam fuel injected engine.

5 speed manual close-ratio transmission.

Rear wheel drive.

Power assisted 4 wheel disk brakes.

4 wheel double wishbone independent suspension.

143,000 trouble free miles. At the 120,000 service it got a new timing belt, front crankcase seal, valve cover seal, timing belt tensioners, and water pump.

New alternator, catalytic converter, and coil pack.
Brand new Yokohama AVS Intermediate tires.
It's Mariner Blue with a black top (installed in 1997, new rear window in 2000) and interior.

Modifications:
Polished aluminum VooDoo Shift Knob. I still have the stock knob, if you prefer.

1994 Miata Alloy Rims. 14x6, these weigh much less than the stock steel wheels, a set of which go with the car.

Hella H4 European spec headlights with standard 55/60W bulbs.

Mazda Miata Tonneau Cover (the flat one). I also have the stock top boot.

Kenwood 20 watt AM/FM/CD Receiver, with motorized retractable antenna,
Pioneer 3 way 6 inch door speakers and Blaupunkt 2 way 3.5 inch headrest speakers.

Tokico Illumina adjustable shocks.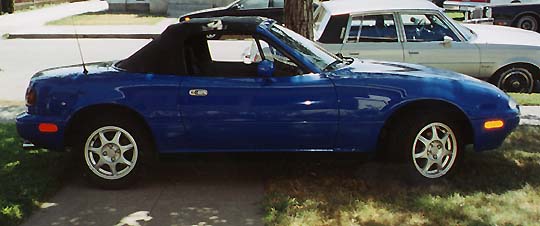 You can read more about Miatas at the Miata.net web page.

Bob R. Kenyon ©1996, 1999